The golden retriever is a gentle, affectionate and highly intelligent dog breed. It is also one of the world's most popular and loved pets.
Breed standard: UKC, AKC, CKC, TKC, FCI I Size: Medium I Average lifespan: 12 years I Temperament: Gentle and patient I Coat length: Medium I Origin: England
Evolution of the golden retriever: from its origins to the present
A much-loved dog breed with historical records
There are two key theories about the origins of the golden retriever. Some claim the breed comes from a group of dogs from the Caucasus, an area situated between the Black Sea and the Caspian Sea, in the lineage of the larger Leonberger. It is said that some of these dogs were brought to England or Scotland and a new, slightly smaller 'golden' breed later created.
Another key theory states that the breed hails from Russian circus dogs. These dogs were bought in 1858 by a member of the English gentry who later became known as Lord Tweedmouth. It was on Lord Tweedmouth's Scottish estate that they were used to hunt deer, later said to have been bred with a sand-colored bloodhound to improve scent detection skills and reduce size.
While historical records appear to challenge the Russian circus dogs, Dudley Marjoribanks (or Lord Tweedmouth) still remains very much the center of where the golden retriever is said to have originated. According to Lord Tweedmouth's studbooks, which were uncovered in the 1950s, he purchased an unregistered yellow retriever from a cobbler in Brighton, England in the year 1865. Back on his estate in Scotland, Lord Tweedmouth hunted with his new yellow retriever, called Nous, until in 1868 he cross-bred Nous with a now-extinct Tweed water spaniel. Lord Tweedmouth's goal was to create his own breed of 'retriever' dog by cross-breeding and re-cross-breeding specific canines of whose traits he valued most. Thus, he carefully selected the dogs according to specific criteria. As a result of this experimentation, the golden retriever as we know it today was born.
First showing and development of the breed standard
In 1909, the new golden retriever took part in its very first dog show. Its name accurately reflected its key characteristics, from it's wavy, golden fur to its primary role as a retriever during hunting trips.
The very first club dedicated to the golden retriever was created in England in 1911. The Golden Retriever Club helped in raising the profile of the breed. Although the breed was registered in 1903, it was not recognized as a pure breed until 1913 and its official standard was not published until 1930.
Recognizing the breed in America
Although the breed had been seen from time to time in the US around the late 1880s, it wasn't until 1925 that the American Kennel Club (AKC) officially registered the golden retriever. Canada followed shortly with the breed's official registration in 1927, although took much longer to establish its first club, the Golden Retriever Club of Ontario in 1958 (this later changed its name to the Golden Retriever Club of Canada). In the meantime, the Golden Retriever Club of America (GRCA) was established in 1938, helping to spread the love of this new, highly affectionate and gentle breed.
Today, the golden retriever remains one of the world's most popular breeds of dog. It's not hard to see why when you consider their affectionate and placid nature, and how well they blend into family environments.
In 2006, the AKC registered 42,962 goldens in the US. The number of unregistered US goldens is estimated to be around 500,000-700,000.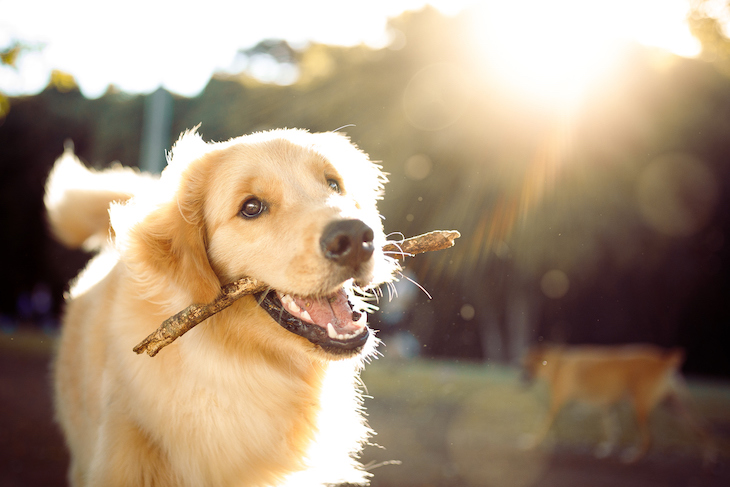 Character of the golden retriever
Golden retrievers, like labrador retrievers, are often the preferred breed to train as assistance dogs. Their high levels of intelligence, patience and placidity make them ideal for such demanding roles.
They are also loved in family homes for the same reasons, coupled with their affectionate demeanor.
The golden retriever: its qualities
Docile, friendly and affectionate, goldens are naturally gifted and confident working dogs. While different to the personality of a typical guard dog, goldens make excellent watch dogs, particularly for those suffering from medical conditions such as blindness, deafness, and seizures. Their natural instincts make them reliable and trustworthy, while their playful and affectionate nature will brighten anyone's day.
Goldens are also known to get along very well with children. They provide a level of patience ideal for children as well as a sense of playfulness yet also calm at the behest of children. On the other hand, as a medium-large dog breed, they can sometimes be oblivious to their own stature and strength and can collide with children during playtime. This is never with intention but something to be mindful of with babies or very young children.
Training comes easily and naturally to the golden. With the correct approach, obedience is learned quickly and they will adapt to your commands and daily routines. Apartment living isn't out of the question, so long as they are given daily walks and regular longer walks to stretch their legs and remain active. That said, a golden will be happiest with a garden or a life out in the country.
Are there any downsides to having a golden retriever?
Familiar with the phrase 'puppy dog eyes'? Well, goldens are particularly good at coaxing you with theirs! Just another bite? How about a piece of your sausage? Be careful not to give in as goldens have a tendency to continue eating well beyond their needs, leading to weight gain and even obesity, as well as related health problems. You will have to be firm when necessary and not give in. Think of it as not letting them down but helping them to be healthy and at their happiest as a result.
Your golden also won't appreciate being left alone often or for long periods of time. These doe-eyed beauties are pack animals and will want their family nearby at all costs.
A golden's scissor bite means that during hunting they are able to carry a bird in their mouth without damaging the animal.
Physical characteristics of the golden retriever
Unlike other dog breeds, the golden retriever breed standard has changed very little since being defined in 1930.
General appearance
Golden retrievers are hardy, medium-large hunting dogs that are well-proportioned. Sexual dimorphism, or the difference between the male and female sex of the breed, is not markedly different. That being said, like many dog breeds, females tend to be slightly smaller in size and weigh less. Additionally, males tend to have more block-shaped heads while females carry a narrower shape.
On average, goldens reach between 51cm and 61cm at the withers and weigh between 25kg and 34kg.
Goldens are an energetic breed, which can be seen in the way they move. Their limbs run perpendicular to their body axes resulting in their much-loved energetic 'bound'. Their gate is smooth and powerful and the stride long.
This is an aesthetically-pleasing, well-proportioned, powerful dog breed. While robust in physique, they demonstrate a softness in both their physical appearance and personality traits.
Zooming in on the golden retriever's head
A golden's head is large without appearing cumbersome and blends well into the neck. The stop of the nose is well marked but not abrupt and the nose is preferably black. The muzzle is wide, straight leading to a deep and broad foreface. The length of the muzzle is approximately equal to that of the skull (from the stop to the back of the head). The jaws are strong and should have an almost-perfect scissor bite. The upper incisors overlap the lower incisors in close contact and are set square to the jaw.
Eyes are set wide apart and are preferably dark brown in color (medium brown also accepted). They are friendly and intelligent in expression. The rims of the eyelids are dark and closely surround reasonably deep eye sockets.
Ears are medium-sized and set at eye level.
The neck is of good length, clean and muscular.
The body of the golden retriever
The top line of the back is strong and horizontal. Loins are strong, muscular and short with just a slight slope at the croup (rump). The chest is broad and developed and extends down to the elbows. Ribs are well sprung and long.
The tail should be well set and thick at the base, as well as strong. The tail extends from the natural line of the croup out to the hock (ankle joint) but not below. It does not curl at the tip, unlike the spitz breed.
The forequarters (or front legs) are muscular and work in alignment with the hindquarters (hind or back legs). The shoulders are slightly slanted and the shoulder blades long. The upper arms are of the same length as the shoulder blades, positioning the forequarters neatly under the body. Elbows are pulled in close to the body.
Hind legs are strong and muscular. The thighs are long and the hocks are located further down, neither turning in nor out.
The front and hind feet are medium-sized, rounded and are similar to thick-padded cat paws.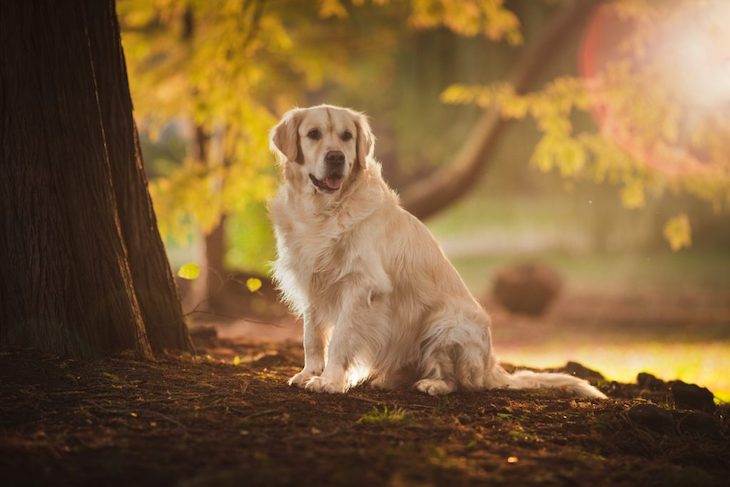 Eligibility criteria
Obtaining a pedigree
As a hunting dog at its core, breeding standards across multiple organisations require that golden retrievers are judged primarily on this attribute. Any deviation from the standards are considered defects.
Members of the Golden Retriever Club of America (GRCA) are encouraged to be responsible breeders by maintaining the purpose of the breed:
Recognizing that the Golden Retriever breed was developed as a useful gun dog, to encourage improvement by careful and selective breeding of Golden Retrievers that possess the appearance, structure, soundness, temperament, natural ability, and personality that are characterized in the standard of the breed, and to do all possible to advance and promote these qualities. (Paraphrased from Article I, Section 2, of the GRCA Bylaws.)
Only dogs that are healthy and capable of performing the functions for which they have been selected may be bred.
Penalties when competing
Defects will be penalized at dog shows according to the seriousness and consequences of conditions affecting the dog, as well as its ability to perform its traditional work.
Defects leading to disqualification
Most breed standards look for the same attributes when judging golden retrievers. Disqualifying factors include:
An aggressive or shy dog
A dog with obvious physical or behavioural abnormalities
Height deviating more than one inch from the standard, up or down
Undershot or overshot bite
Coat, color and grooming
Golden retriever coat
A golden's coat is the pride and glory of any parent and the dog themselves. This lustrous coat is either straight or wavy with a good undercoat. The texture is paramount and must be dense, firm, resilient and waterproof.
Colors of the golden retriever
The American Kennel Club (AKC) specifies "lustrous golden of various shades" in assessing the golden's coat color.
Gold and cream tones are the most common goldens to be found. Darker, copper-like variations are also permitted, depending on the breed standard. Red nor mahogany are accepted. The presence of some white hairs on the chest is allowed, as is natural greying of the hair with age.
3 color variations:
Light golden: this is the lightest and appears more cream in color
Golden: closer to color of straw or 'golden' in appearance
Dark golden: close to mahogany but with a touch of gold
Golden retriever grooming tips
With a medium-length coat, brushing once or twice each week should remove any knotted patches, as well as dead or unwanted hairs. If you regularly hike or go for extended walks with your dog, it is advisable to brush after each outing to remove dust, leaves, knots, or other unwanted items your dog may have collected along the journey.
Baths are also advisable from time to time, especially after swimming or rolling in the mud. If your dog enjoys salt water, it will be necessary to rinse them with fresh water to avoid skin irritation.
Remember to keep an eye on the ears. These are sensitive and prone to build-ups. Ensure you clean and check them regularly.
The golden retriever at a glance
Size: Between 51cm and 61cm at the withers.
Weight: Between 25kg and 34kg.
Health: As an athletic breed, your golden will need ample exercise. There is a susceptibility to hip and elbow dysplasia, as well as bone and eye problems. It is recommended to review the health history of the parents for any genetic ailments, and/or carry out screening procedures. Overall, this is a healthy and robust breed.
Life expectancy: Approximately 12 years, sometimes 14.
Feeding: Goldens are known lovers of food, therefore it is necessary to adapt their diet according to their weight and activity levels. Meal times should be fixed and given in the same, ideally quiet place. As with all pets, fresh water should always be available. If food or water consumption becomes excessive, consult your veterinarian.
Are goldens good with children? Goldens make one of the most loved family dogs. Their temperament, including their patience and gentleness, work brilliantly with children.
How easy are golden retrievers to train? As one of the most intelligent and easily trainable dog breeds, your golden will learn quickly and well. Due to their gentle, sensitive nature, positive reinforcement training will be most effective.
Did you know? Despite their resemblance, golden retrievers and long-haired labradors are not one and the same. In fact, they are two very distinct breeds!