While there are many American dog breeds, some are more well-known than others. In this article, we will go over 10 of some of the most popular American dog breeds!
American Staffordshire Terrier
While this breed is commonly known as the Stafford or Staffy, the full name of this dog breed is the American Staffordshire Terrier. This breed may have somewhat of a gruff appearance, but many people love the American Staffordshire Terrier. These dogs are kind to their owners, despite having descended from fighting dogs. In the past, dog fighting was a popular activity in the United States. The ancestors of this dog breed fought bears, wolves, and bison. This breed came to be by crossing Bulldogs and Terriers, specifically selected for their tenacity and power. Because they were fighting dogs, they had to be muscular, resistant and agile.
The breeder who developed the criteria for the American Staffordshire Terrier was James Hinks. In 1936, the breed was officially recognized.
Although this breed is sometimes considered dangerous, they are lovely with their owners. However, this depends on whether or not they were trained well and as long as their owners were not violent with them. They are great guard dogs who like to cuddle and play games.
It's important to know that American Staffordshire Terriers prefer houses with garden. However, they can adapt very well to life in an apartment as long as they are given the opportunity to go out for walks.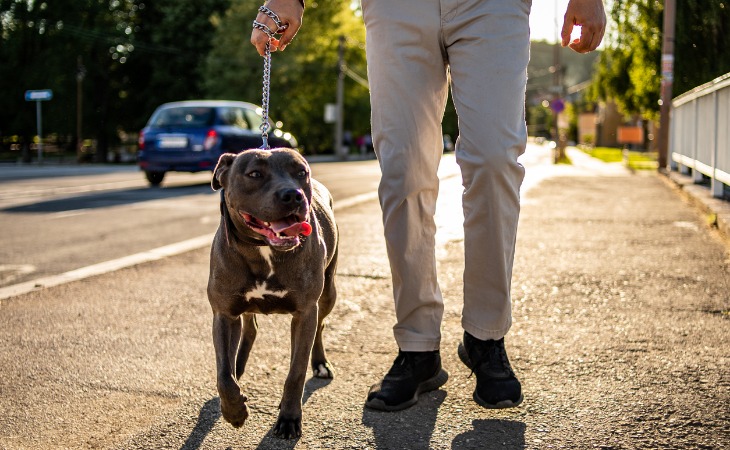 American Bully
The American Bully is a cross between an American Staffordshire Terrier and an American Pit Bull Terrier. The first American Bullies were found in the late 1980s. In 2013, the American Bully was recognized as its own breed. Before then, they were considered to be Pit Bulls.
Some of the physical characteristics that stand out about the American Bully is its muscular body, its large head, and large legs.
Contrary to its ancestors, the American Bully was created to live with a family. This breed gets very attached to its owner and has a difficult time staying away from them. As they are quite sociable, they gets along well with other dogs. This is only true if they were trained well. In addition, the American Bully is considered to be one of the most powerful American dog breeds. They will defend their owners at all costs. Additionally, they love long walks and playing with their families.
While the American Bully loves to be outside, they also love to spend long hours cuddling.
This breed is relatively healthy. However, it's important to keep in mind that this dog's diet needs to be high in protein and calcium to keep their muscles and joints strong.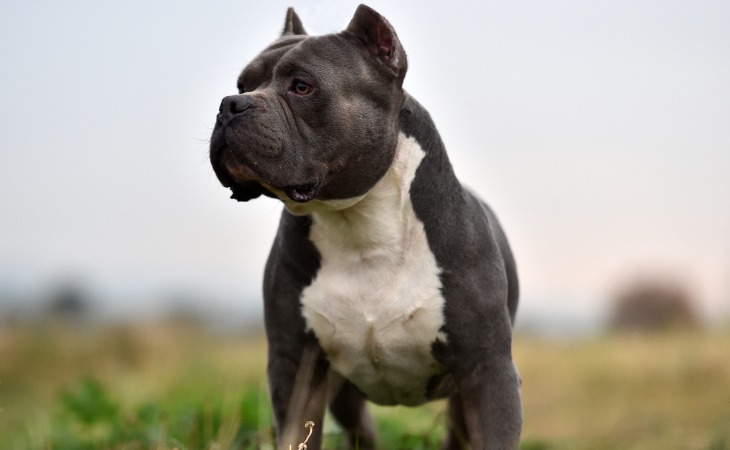 Redbone Coonhound
Next, we have the Redbone Coonhound. This dog breed is a hunter with a slim and slender body. The breed has a beautiful red coat color.
The breed is the result of various crosses with European hunting dogs. These include the Foxhound, the Talbot, and the Bloodhound, just to name a few. They were created in Georgia during the 18th century.
The Redbone Coonhound is not very widespread outside of the United States. Nonetheless, hunting dog lovers appreciate them for their particularly powerful sense of smell and their ability to follow tracks.
This athletic dog breed is at its happiest when its owner enjoys physical activity too. For example, Redbone Coonhounds love to run around and enjoy hunting with their owners.
This dog breed is above all an outdoor dog and loves to be able to go on nice walks in the countryside or in the forest. Furthermore, they are an excellent companion for children.
Redbone Coonhounds need to be trained early and firmly.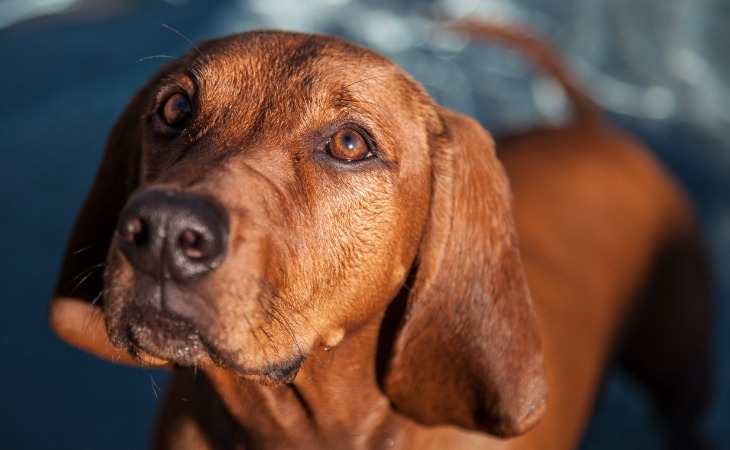 Akita
Th Akita descended from the Japanese Akita Inu. The breed was brought to the United States after World War II by the U.S. Army. In 1972, the Akita was officially recognized by the American Kennel Club (AKC). It was at this time the Akita breed started to diverge. Japanese breeders were no longer willing to provide new Akita Inu dogs to enrich the American dog breeds.
The most popular physical characteristics of this dog breed is its triangular head and impressive body. In addition, the Akita has a shiny coat.
The Akita is a great pet. They are extremely cuddly and loves their families so much. They will do anything to protect them. But do they have any downsides? Unfortunately, this breed is known to be impatient and can get frustrated if a child annoys it too much. Therefore, it is necessary to train Akitas very well.
In the past, the Akita was a hunting dog. Similar to the Japanese Akita Inu, they have kept this instinct and are prone to running away. It is best to fence your backyard and keep your Akita on a leash during walks. Additionally, because this dog is particularly dominant, they do not always get along with other dogs.
Similar to the Redbone Coonhound, this dog breed needs to go on long walks outdoors to be happy and healthy.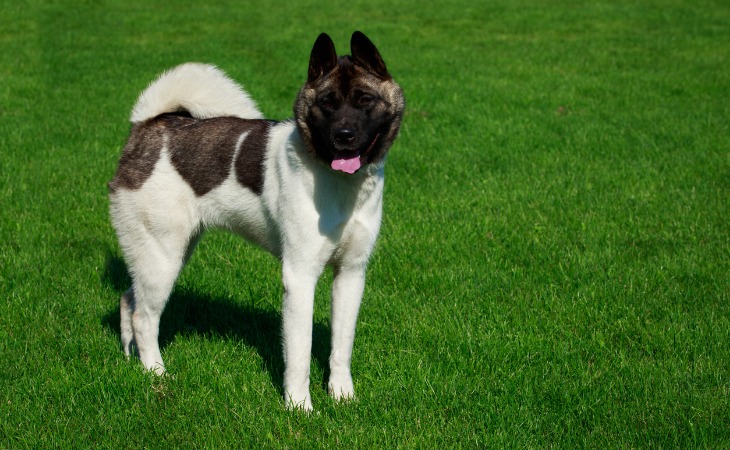 Kyi-Leo
While we have only talked about large dog breeds so far, there are also quite a few small American dog breeds. The Kyi-Leo is one of these popular small dog breeds.
This small breed that originates from California was created in the 1950s. It is a cross between a Maltese and a Lhasa Apso. The Kyi-Leo's small size and long hair makes it a very popular breed for children because they look like stuffed animals. It is one of the most popular American dog breeds.
Although the Kyi-Leo is super friendly and affectionate with family members, it is an excellent watchdog that knows how to bark loudly when it senses danger. In addition, this dog breed is easy to train and loves to play. Kyi-Leos are also very active. They need regular outings and long play sessions to feel happy.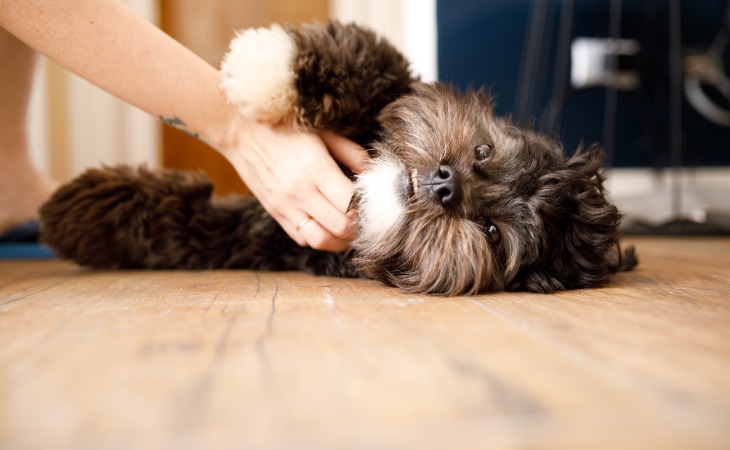 American Mastiff
The American mastiff was created by a breeder who wanted a dog with the physique of a Mastiff but without some of the downsides that the Mastiffs are known for such as illness and a shorter life span. She decided to cross an Anatolian Shepherd with a Mastiff. The result was a very powerful looking dog with an incredibly affectionate character.
American Mastiffs are calm dogs that like to spend long hours with their owners. Additionally, they get along very well with children and other dogs.
This dog breed is very easy to live with. This is because they adapt well to small living spaces as long as you they are walked regularly.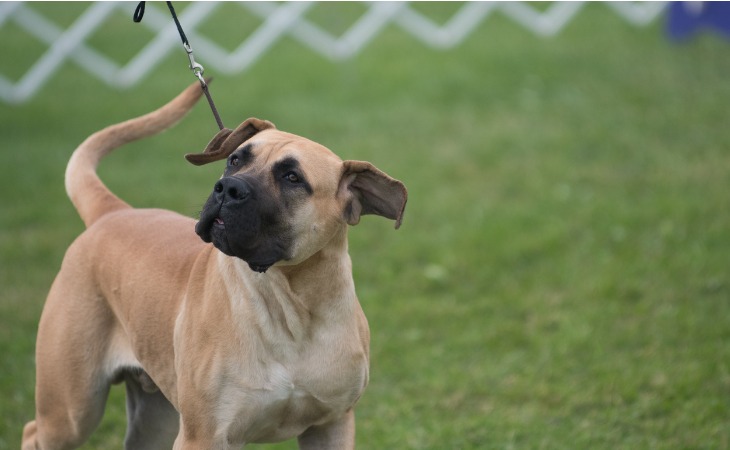 Catahoula Leopard Dog
If you are a fan of unique dogs, you will love the Catahoula Leopard Dog. This dog breed is believed to originate from crosses between breeds such as Mastiffs and Greyhounds. In the early 20th century, the dog was crossed with a Harlequin Beauceron.
These crosses have created an amazing dog. They have a spotted coat and beautiful eyes that set them apart from other dog breeds. Furthermore, the Catahoula Leopard Dog is the official dog of the state of Louisiana, where the breed was developed.
Catahoula Leopard Dogs are faithful, affectionate and devoted pets who love to go on long walks with their owners. It's important to know that this dog does not like to live in the city. Instead, they need wide open spaces to feel comfortable.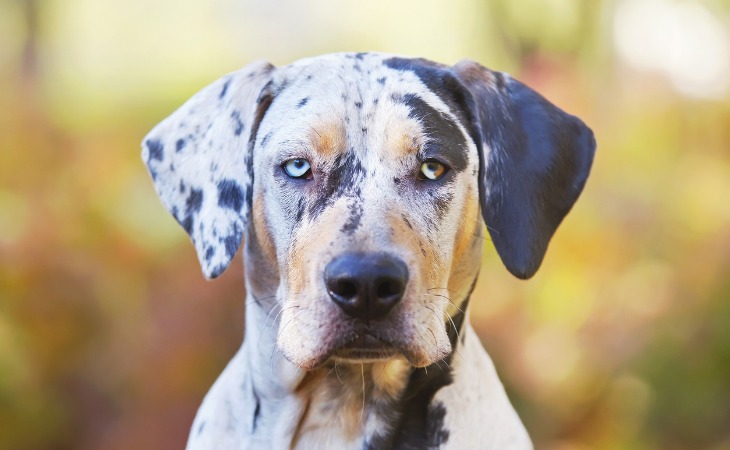 American Foxhound
This hunting dog is one of the oldest American dog breeds. In fact, records of the breed date back to the mid-17th century in Maryland. The American Foxhound descended from the English Foxhound and various Irish Hounds.
The breed was officially recognized in 1894.
In the past, this breed was used to hunt foxes. Nowadays, the American Foxhound is a lovely pet because they are very friendly and affectionate. With that being said, they can get bored if they stay inside for long hours. They might also become destructive. This dog breed is at its happiest when it is out walking in the nature or living on a farm!
With an exceptional sense of smell, this breed tends to follow things that it sniffs. This means that the breed is prone to running away. When going out for walks, it is important to keep them on a leash and try to stay in well-enclosed outdoor areas.
Although the American Foxhound is an independent dog, they know how to show affection to their owners. In fact, they like to snuggle with them after a long day of walking!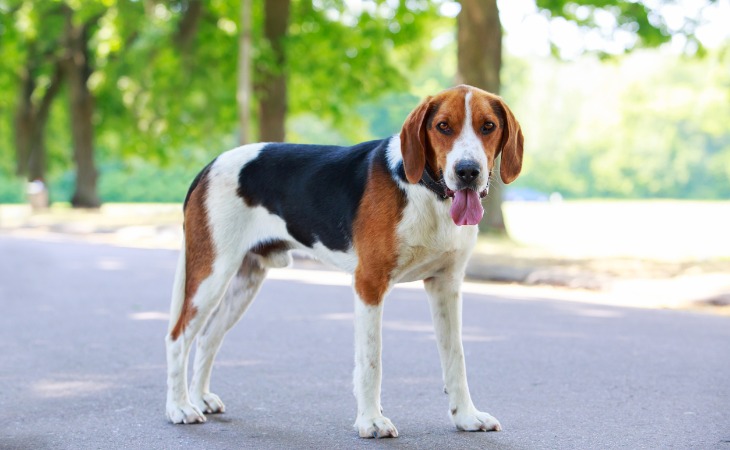 Boston Terrier
The first traces of this cute dog breed were found in the United States in 1870. As its name suggests, the Boston Terrier was found in Boston. The breed was originally a cross between a Terrier and a Bulldog imagined by British breeders. When breeders were still crossing this breed, the first ones weighed more than 14 kg (around 30 lbs). It was also crossed with the French Bulldog. The Boston Terrier was the first breed to be officially recognized in the United States. This happened in 1893.
This dog breed is both mischievous and an adorable little angel. In addition, the Boston Terrier is a friendly and very sociable dog. Their big expressive eyes look at everything with curiosity. They adore their owners and can't stand being without them. Unfortunately, when they are left alone, Boston Terriers tend to get anxious.
The Boston Terrier loves spending time with children. In fact, they really enjoy playing around with them.
This dog breed barks very little, which means that it is not a very good guard dog. Moreover, they are too friendly to consider people to be a danger.
Because this dog breeds is brachycephalic, meaning "short skull", when the breed goes on walks, it must use a harness instead of a collar. This also means that the breed does not handle heat well. It's important to take special care of your Boston Terrier when it is hot.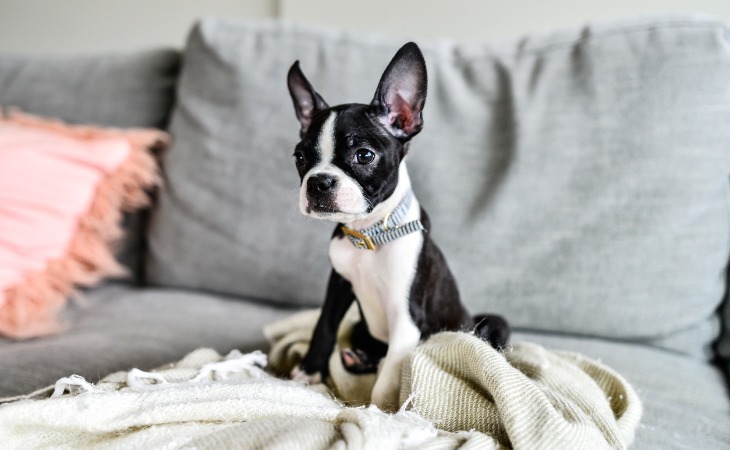 American Cocker Spaniel
The adventure began in 1881 when two English Cocker Spaniels were brought onto American territory. Later, in 1946, the American Cocker Spaniel was recognized as a different breed than the English Cocker Spaniel. This breed became very popular after the Second World War.
Not only are American Cocker Spaniels smart, playful and kind, but they are also excellent companions. They are never aggressive and enjoys cuddling. Moreover, this popular American dog breed likes to meet strangers, whether they are humans or animals.
Although this breed is known to adapt very well to life in an apartment, American Cocker Spaniels need to go on walks regularly. They enjoy beautiful walks out in the nature.
The American Cocker Spaniel does not like to be alone. In order to stay happy, they need company.