Have you adopted a dog recently and aren't sure if you should buy an ID tag for them? Are you wondering what kind of ID tag to buy? In this article, Letsgetpet will give you a few tips on how to choose the right ID tag for your dog.
Why should I buy an ID tag for my dog?
An ID tag has identification information that allows people to differentiate your dog from others. While a microchip allows your dog to be identified, only certain professionals such as vets can access the technology that can read microchips. Therefore, the process can be long and complicated for someone who finds your lost dog.
On the other hand, if your dog has a collar with an ID tag on it, they can be identified by anyone. People would be able to easily bring your dog back to your house if they haven't gone too far and they can contact you more easily if your dog has gone far from your home. In addition, if your pet has gotten hurt, the person who has found your dog would be able to contact you quicker and more easily.
What type of ID tag should I get for my dog?
There are a plethora of different types of ID tags for dogs. However, they can be broken down into two categories: classic models and modern or high-tech models. The ID tag you choose should depend on your needs and your budget.
Classic and traditional models
Classic or basic models are ID tags that are engraved or ID tags that can hold a rolled up piece of paper. These models can either be flat or in the form of a tube. The tube-shaped model is useful because it allows pet owners to place a rolled up piece of paper inside the tag with all of your contact information. The inconvenient aspect of this model, however, is that the capsule can unscrew itself if your dog moves too abruptly.
Modern or high-tech models
These are sophisticated ID tags that have technological tools that allow a dog to be identified. They are very practical if ever your pet gets lost. Most models have NFC technology or QR codes. These high-tech models allow you to know where your pet is through a connected smart phone. In addition, QR codes allow you to access the identification information of your pet.
Unlike microchips, which can only be read by professionals, NFC technology and QR codes can be read by anyone with a smartphone. The person who finds your dog would be able to access your dog's identification information in just a few clicks.
How do I choose the right ID tag for my dog?
Between the size, the material used to make the ID tag, and the shape, it can be difficult to choose the right ID tag for your pet. However, in every case, you need to think about your dog's comfort and safety.
Choose a model that is the right size for your dog
When buying a dog ID tag, you should take into account the size of your pet. The size of the model is one of the most important criteria when choosing an ID tag model for your dog. In order for your dog to be comfortable with the tag around their neck, the tag needs to be the right size for them. Most dog accessory suppliers offer three different sizes of tags. These are the sizes S, M and L.
The size S is recommended for small dogs like Poodles or Chihuahuas that weigh 1 to 10 kg (≈ 2.2 to 22 lbs). For dogs weighing between 10 and 30 kg (≈ 22 to 66.1 lbs), size M medals are more appropriate. The L size is ideal for large dogs with a neck measurement of at least 38 mm. They usually weigh more than 30 kg (≈ 66.1 lbs).
Choose a model based on what material the ID tag is made out of
The material should not be chosen randomly, but rather strategically. It is important to check what materials were used to make the tag. The composition of some tags can be harmful to the health of your pet. This is why it is recommended to choose models that are made out of aluminum, resin, brass, or stainless steel. In addition to being safe for your dog, these materials are very resistant to wear. Stainless steel is particularly recommended because it is both hypoallergenic and durable. As a result, tags made out of this material do not change color over time and do not oxidize.
Opt for a shape based on your taste and style
The shape of the tag is just as important as its size. From one supplier to another, you will find simple and classic ones such as round, oval, square, and rectangular styles. You can also find more original ones such as hearts, bones, and dog paws. To maximize your dog's comfort, tags with rounded edges are the most recommended shape. Models with pointed ends are not recommended to keep your pet from getting hurt.
In addition, you can choose to personalize your dog's ID tag with different colors and patterns. The most used are silver, blue, pink, and red. In addition to the identification information, you can further personalize it with fun patterns or a logo.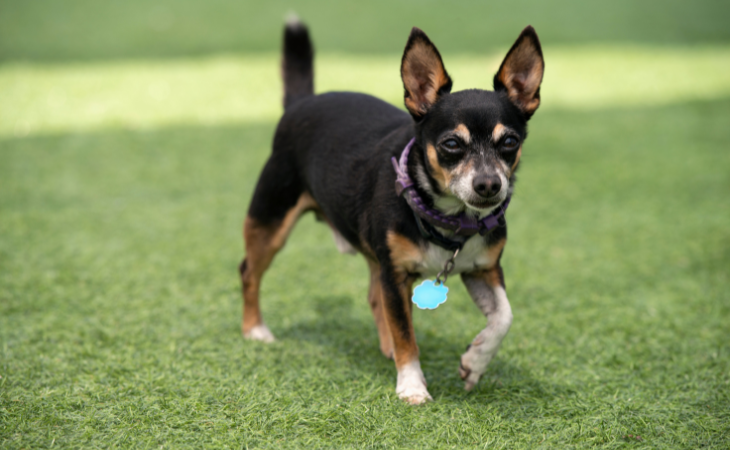 What information should I put on my dog's ID tag?
The information that should be put on an ID tag depends mainly on the size and shape of the tag. For an accessory of this type with limited space for text, you should primarily add contact information. This can be your cell phone number or your address. With this information, you greatly reduce the risk of losing your dog. When the size of the tag allows you to add more information, you can add information such as :
your dog's name,
your first name and last name,
your phone number,
your vet's phone number,
etc.
In addition, you can indicate your pet's health if they suffer from a particular ailment. This information about your pet's health will allow any stranger to avoid unknowingly compromising their health. Some owners write that they will provide a certain amount of money as a reward for finding and returning the pet if they get lost. You can do the same to increase your chances of quickly recovering your faithful companion when they run away or gets lost. We hope that you have a better idea of what you should pay attention to when choosing an ID tag for your dog.