Many new cat owners have a hard time choosing an ID tag for their cat. While ID tags are optional, some people still decide to buy one for their cat. In addition to being an aesthetic accessory, it is useful because it allows people to easily identify who owns a lost cat because the address of the owner is written on the ID tag. There are many different types of tags with different shapes and made in different materials. Cat owners have so many choices! In this article, Letsgetpet will provide you with a few helpful tips to help you choose the right ID tag for your cat.
Why should I buy an ID tag for my cat?
As cats are particularly adventurous, observant, and independent, it's not uncommon for cats to get lost. If your cat is followed by a dog, for example, they might distance themselves from your house. To find them easier, people need to be able to identify them. That's why having an ID tag for your cat is so important.
Even though in some places it's mandatory to microchip or tattoo domestic cats, using an ID tag is much more practical. ID tags allow people who find lost cats to know right away whether or not the cat has an owner. In addition, if a cat has a microchip, the person who finds the lost cat has to find a vet or a professional such as a police to be able to contact the owner. These professionals are able to find the identity of the cat thanks to the microchip. Unlike the microchip, everyone can easily read the contact information written on the ID tag, which is really useful when a cat gets lost.
What kinds of ID tag models exist?
There are so many different types of ID tag models on the market. From simple to more technological, you can make your decision based on your style preference and needs.
Classic models
Classic models are bought the most often and allow people to find lost cats. They are the most successful types of models and exist in two different forms. Classic or traditional ID tag can be flat plates or capsules.
Flat models
Flat ID tag models are the most common because it's possible to engrave a lot of information directly on the tag. From one manufacturer to another, you can find different shapes (hearts, stars, fish, burgers) and sizes for your cat. In addition, it is possible to choose different colors based on your style and the appearance that you want your domestic feline to have. Furthermore, you can opt for different personalization options.
Capsule models
Capsule models are also a type of ID tag that can be attached to the collar of different pets. It is a model that is shaped like a little tube that is designed to hold the identification information of a cat written on a paper. To not bother your cat, you can opt for a small model. Unlike flat ID tags, capsule models are limited in terms of shapes and colors.
High-tech models
Technology has become a huge part of our daily life. Even when it comes to the identification and protection of small domestic felines, there are traces of the technological revolution. In fact, there are high-tech ID tag models that combine security and elegance. You can find some with a USB key and others with a QR code.
ID tag models with a USB key
You can put all the identification information needed in order to identify your cat quickly on a high-tech ID tag with a USB key. This can be identification information regarding you and your cat, information related to your cat's eating habits and their health conditions. You can also add the coordinates of your cat's vet. Keeping this information saved on this kind of high-tech model allows people to quickly find all the information someone might need if they find your lost cat. In addition, it allows the person who found your cat to take care of them before you come to bring them back home with you.
ID tags with a QR code and GPS
In addition to a USB key, some manufacturers propose models that have a QR code. This technology makes it a lot easier for people to find the identification information of a cat. However, it requires people to have a smartphone that allows them to scan QR codes.
Unlike classic models, high-tech models are more practical when it comes to updating the information related to your cat. In addition, in order to make it even easier to find your lost cat, it's impossible to install a GPS on your cat's collar.
Personalized models
Whether you choose a classic or high-tech model, personalizing a model allows your to make the ID tag unique and easily identifiable. In addition to identification information and different colors, you can opt for special patterns or a logo.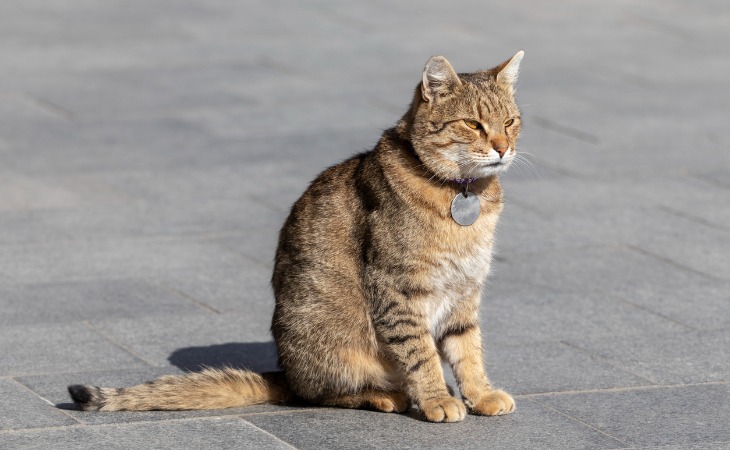 What criteria should I use when choosing an ID tag for my cat?
From more classic models to models that are more high-tech, ID tags are available in all shapes and sizes. To choose an ID tag for your cat, it's important to take into account certain criteria. For example, you should take your cat's size into account as well as the readability of the tag, the texture of the tag and the color of your cat.
Size
The size of your cat should highly influence your choice when choosing an ID tag model for your cat. For kittens or small cats, most manufacturers propose models that range from 1.5 cm to 2.3 cm. For larger cats, you can opt for tags ranging from 2 cm to 2.5 cm. As your cat's tag will be attached to your cat's neck, you should find a collar that fits the size of your cat.
Readability
The readability of the information written on your cat's ID tag is a very important criteria to keep in mind. For flat models made out of metal, for example, you need to make sure that the information is engraved clearly and precisely. Typically, an ID tag has the name of the owner, the name of the cat, and the contact information. If you choose a small ID tag, you won't be able to write a lot of information. You should therefore prioritize your contact information.
Quality
When choosing an ID tag for your cat, you should take into account the quality of the material used to make the tag. It can be made out of metal, plastic, or fabric. In addition, it is recommended to treat your cat's metal ID tag with an anti-corrosion product to ensure its durability. Whether the model is classic or high-tech, the quality of the accessory is important for its resistance, its safety, and the comfortability of it on your cat's neck.