Birman
The Birman, also known as the Sacred Cat of Burma, is a medium-sized cat that usually measures 30 cm. It weighs around 4 to 7 kg (around 8 to 15 lbs) and lives on average until 17 years.
This cat breed is often compated to a dog. This is because they are particularly affectionate. Their personality is also quite similar to the Siamese and Persian. They are discreet and gentle. They are also very loyal to their owners and love human presence. If you are looking for a cat that loves to be petted, the Birman is the right cat for you.
They adapt well to family life and will happily play with children. However, as this cat is very curious, they need to be watched like hawks!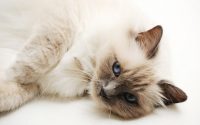 The Birman, also known as the "Sacred Cat of Burma", is a gentle, affectionate, sweet, and clever cat.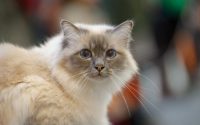 The Birman, also known as the Sacred Cat of Burma, is seen as the perfect cat. This is because the …