To keep your dog happy and healthy, it is necessary to have dog toys. When puppies have toys, they are able grow, develop muscles, and learn to obey. Additionally, it fights boredom and strengthens the bond that you share with your dog.
The importance of dog toys
If your dog plays with the right toys and gets enough exercise, he is less likely to have behavioral problems. However, choosing the right ones for your dog is not easy. There are many different colors, materials, and shapes to choose from. In addition, not every toy is adapted to your furry friend. Here are a few tips on how to choose toys for your dog.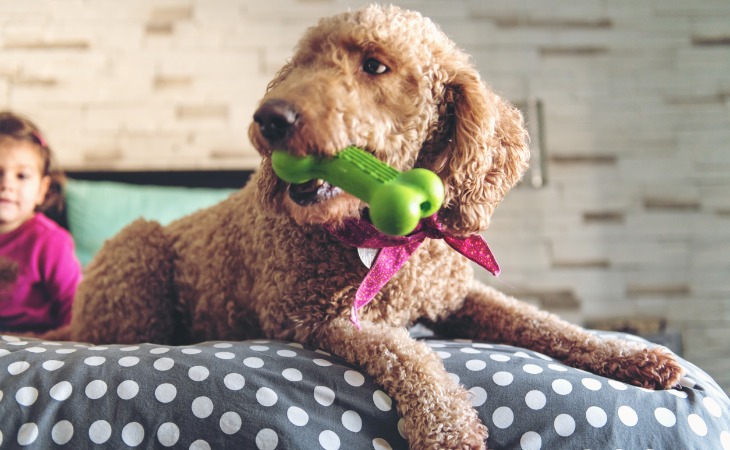 Tip #1: Even toys specifically designed for dogs could be dangerous
Even when toys are intended for dogs, it's best to check their composition to keep your dog safe. If he accidentally swallows a toy, make an appointment with a veterinarian as soon as possible.
Harmful substances
Many toys contain phthalates and bisphenol 1. These substances are harmful to your pet's health. Make sure to read labels carefully when buying a toy for your pet.
Rawhide toys
Rough leather toys can be given to your dog, but under two conditions. First, your should ask your veterinarian at their opinion on leather chew toys. The second condition is that that you must supervise your dog while he is playing with it. This type of toy can present a significant choking risk.
Tip #2: Avoid certain objects and toys
Not all objects can be used as dog toys. Some are actually quite dangerous. Here are a few objects to avoid.
Old toys
Even though in the past, the toy was well-adapted to your pet, if it is damaged or old, your dog may swallow small pieces. This can cause gastrointestinal complications.
Wooden sticks
Wooden sticks can injure you pet. This is because wood splinters can get stuck in your dog's mouth. This could cause wooden bits to damage your dog's digestive organs.
Tennis balls
Because tennis balls are made of an abrasive material, it could damage your dog's teeth. Additionally, dogs can shred these balls. If your dog ingests the material, this could cause him to vomit.
Dog bones
While dogs are often seen with bones in cartoons, bones that are too hard could cause damage their teeth. With that in mind, the most dangerous bones for dogs are poultry bones. In addition to being fragile, once they are broken, they can perforate your dog's intestine.
Children's toys
Children's toys are simply not designed for dogs. When chewing on them, your dog can cause parts to fall off. Indeed, this puts your furry friend at rist of choking or having an intestinal obstruction.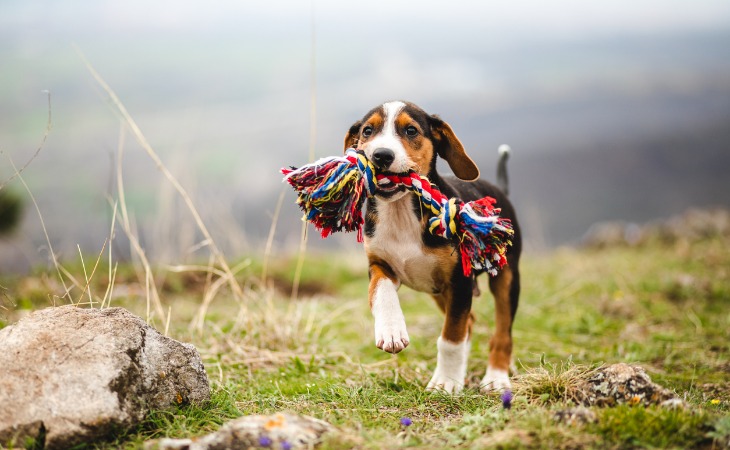 Tip #3: Choose toys adapted to your dog's age and size
The size of your dog's toy should be adapted to his size. This means that the toy should be bigger than his mouth. However, it should not be too heavy or too big for your dog to handle easily. For this reason, it is easier to find toys that are are well-adapted to small dogs. It is more difficult to find ones that can handle strong chewing.
A puppy or small dog
Puppy toys are smaller than average. Addionally, they are softer than toys for adult dogs. If you give a puppy an adult dog toy, he will have difficulty playing with it because the toy is too big or too heavy for him.
A small dog will have an easier time playing with toys adapted to his jaw. You can give your small dog puppy ones.
A large dog
A large dog will easily shred small toys. To resist the powerful jaws of a large dog, you need stronger toys that can handle the pressure of strong chewing. To prevent your dog from swallowing the toy and choking, the toy should be adapted to their jaw size.
Strong chewers
Resistant dog toys designed for strong chewers are made of hard materials such as rubber. However, these durable toys are not indestructible. To keep your dog safe, read the label to verify the composition and durability of the toy. Finding and keeping a toy for a strong chewer is difficult, however, it is not impossible.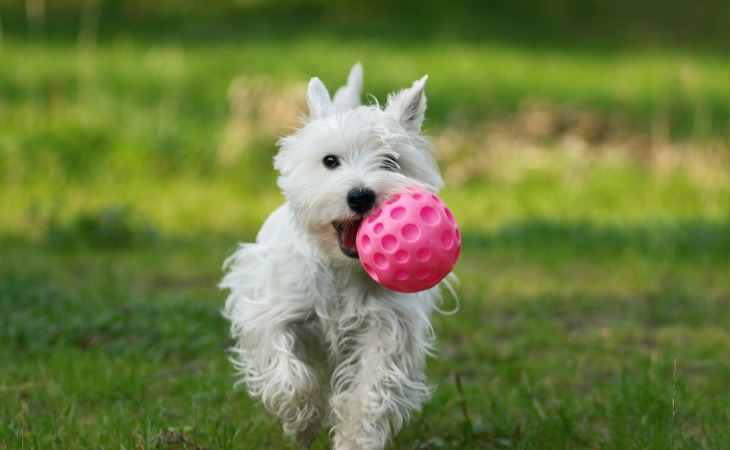 Tip #4: Choose dog toys according to you dog's personality, daily life and needs
Toys help dogs avoid boredom, let off steam, cooperate or reassure themselves. This means that you should take the time to choose a good one. Above all, choose a toy according to your dog's personality, daily life and needs. Ideally, your dog should have a variety of different toys.
Balls and frisbees
All dogs enjoy these types of toys. They build your pet's concentration and responsiveness. They're great for outdoor play and give your pet a chance to exercise. Playing fetch with your dog helps to create a bond.
Treat dispensing toys
Treat dispensing toys are filled with treats. They fight boredom and encourage your pet to exercise. They also allow your pet to not eat too much at a time and digest better. If your dog stays home alone for long days, toys to keep your dog busy are highly recommended. This way, he won't attack your furniture or shoes.
Rope toys
Ropes toys help you and your pet to bond better. This type of toy allows your dog to let off steam, with you or other dogs. Additionally, it is excellent for their teeth, as they help with tartar. Moreover, it helps satisfy your dog's chewing needs.
Stuffed animals and plushies
Puppies and adult dogs are particularly fond of plushies. This is especially the case if the toy is noisy or squeaky. Ideally, you should choose a plush toy that can keep your scent. This is a great way to reassure your pet in your absence. However, a plush toy is not recommended if you have a strong chewer.